Access All Areas with TDSi and Milestone
Thursday, 21 April 2016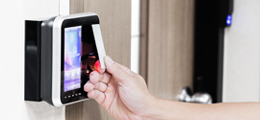 Author: Toyah Hunting
Solution Certification
Integrated security manufacturer TDSi recently announced the launch of the latest version of its complete access control solution EXgarde 4.5. The new version includes full two-way synchronization with our Xprotect® Access.
The new EXgarde version's features are designed to fully utilize the useful integration possibilities for these complementary systems. This ensures that TDSi's solution can maintain a central position at the heart of security and access control integration, from one portal.
TDSi: Protecting millions, every day
TDSi access control solutions protect millions of people worldwide every day. Over the past 30 years, they have been put to use by several million card holders in more than 100,000 installations worldwide. Each and every TDSi product delivers the same reliable performance, technical excellence, elegant design and value for money, whether in stand-alone door-controllers or in fully integrated access control software management suites.
Control one door or thousands
The new EXgarde Milestone Xprotect Access integration controls everything from one door up to thousands, at multiple sites with thousands of users. Ease of integration and expansion are key attributes, providing extensive possibilities to integrate to the latest CCTV, fire, intrusion, building automation and management, active directory and biometric technologies.
The certified integration ensures that both of these powerful systems can work in full conjunction with one another: Users can display live events from the EXgarde Access Control System directly within the Milestone viewing platform, with full user details of the credential holder also available. Configured doors can also be controlled from within the Milestone system, providing a common view for both CCTV and Access Control. Other features include the use of maps, alarm handling, access request fly-outs and incident investigation. Commercial environments such as retail, offices, manufacturing and leisure and entertainment facilities could benefit from this integration, as could public sector environments such as hospitals, educational establishments and transport.
Immediate visibility of access issues
The certified integration ensures that customers can use whichever system they prefer to manage their site security. By viewing access events directly from within the CCTV system, immediate visibility of access issues or alarms can be visibly seen on the live cameras. With door control, the customer can remotely open car park barriers or doors when a visitor arrives and is seen on the video system.
Access control events can also trigger alarms in the Milestone software, providing a cohesive view of any incidents as they occur. The integration enables TDSi's EXgarde software to offer a complete Physical Security Information Management (PSIM) solution, merging security software with physical assets and generating broader security coverage and faster response times.
The quest to provide end user benefits continues
The integration seeks to unite traditionally disparate components of business security. Both TDSi and Milestone recognise the power of compatible systems designed to be highly complementary to one another, providing excellent results and return on investment. "I am looking forward to continuing to work closely with the product and development teams at Milestone to add more features that provide benefits to end users," technical director Mike Sussman says.
Check out TDSi´s integration in our Solution Finder
Want to develop your own integration into our VMS? Download our SDK