Milestone CEO Publishes Book on Leadership
Thursday, 29 October 2015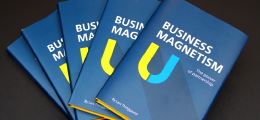 Seventeen years since Milestone was set up and one year after the Canon acquisition Lars Thinggaard, the CEO of Milestone, has published his first book, 'Business Magnetism'. Thinggaard came on board in 2003 as Milestone's President and CEO and introduced a distinct Scandinavian open-style leadership which became a major force in Milestone's journey to the top of the market.
In the book, he reveals some key factors to the company's success using the open platform technology and also talks about the significance our international partner ecosystem.
Business Magnetism tells the story of how a unique vision brought together a very fragmented society. It is about looking to the future, learning from the past and being open to new ideas.
Get your copy from Amazon.com or Amazon UK today!