Helping Milestone Resellers Do More Business
Thursday, 29 October 2015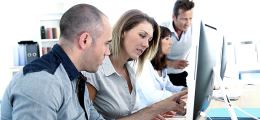 Author: Kimberly Sallingboe
One of the highlights of ASIS for Milestone was the launch of our expanded training offering for Milestone resellers and end-users. Greg Willmarth, manager of Learning & Performance at Milestone, spoke to why we are investing so much time and effort in building up an eLearning universe for our resellers.
"We want to build expertise in our channel. It's not just about products, but knowledge and how to apply that knowledge," stated Willmarth. "The longer an install takes, the less profit there is, and we really want to help our resellers develop their teams to be technical superstars."
To that end, the Learning & Performance team has put together eLearning modules covering the installation and configuration of the Milestone Husky™ NVR series and Milestone XProtect® Professional. By taking these courses, resellers can increase customer satisfaction by working more effectively with Milestone installations. The courses are a great way to become more familiar with the technical side of Milestone's products and a cost-effective way to train in-house technicians.
The team has also rolled out eLearning courses for end-users to train them in the XProtect® Smart Client. The end-user module is a great resource for resellers, as it lets customers take charge of their own internal training and frees resellers up to focus on their core business.
The path to technical superstardom starts here
These self-paced courses are free of charge, available in five languages and can be found on our Learning & Performance webpage. More courses will follow, so keep an eye on our newsletter and Facebook page, where we will announce new modules as they are released.