A Panomersive Experience with Optera Cameras
Tuesday, 24 November 2015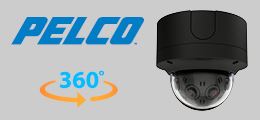 Author: Anee Jayaraj
Partner News
Pelco by Schneider Electric, the manufacturer of state-of-the art IP cameras, has partnered with Milestone Systems to integrate the Optera panoramic IP cameras into the Milestone open platform video management software (VMS). Together, Pelco and Milestone are providing a dewarping plugin that offers users a 'panomersive experience'.
What is a panomersive experience? It is the ability to get a panoramic view from the camera stream, while also being able to select specific 'immersive views'. Immersive views enable operators to digitally zoom in and out, using the PTZ controls, which mimic the user experience for a standard PTZ camera. Since the dewarping engine is hosted by the Milestone client, processing the full panomersive stream, this operation can also be conducted on recorded video. The solution is now available with the release of our latest Device Pack 8.2.
Key benefits to Milestone partners:
- The Optera plugin is supported by the Milestone Software Development Kit (SDK) which makes it easy to add this functionality to the existing Milestone interface – XProtect® Smart Client.
- With this capability, end-users or operators have the freedom to choose their focus area, while still having visual access to other areas on both live and recorded video.
- The ease of set up and use, makes a compelling case for Milestone resellers and distributors to offer to their customers.
Today, the surveillance market is experiencing an overwhelming number of IP camera manufacturers, offering cameras that can produce high quality video. But there is a clear advantage in offering customers a solution that is the result of a partnership between two leading technology companies. The combined pool of resources, technology and experience between Pelco and Milestone Systems, makes this offering a more sustainable solution.
Jonathan Lewit, Application Business Director at Pelco, states: "I'm very excited to see the award winning functionality of the Optera camera exposed through Milestone's VMS platform. The Milestone MIP SDK enabled easy integration, and the support the Milestone team provided ensures a leading video surveillance experience. When open systems come together, the industry wins."
For more information about the plug-in, visit the solution page.
Click here to download the plug-in