Keeping Milestone Engines Running with Milestone CARE™
Monday, 21 December 2015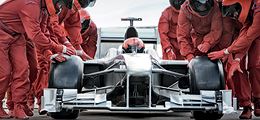 Author: Kimberly Sallingboe
Product News
On July 1, 2015, we shook things up a little. There was a definite Formula 1 atmosphere at Milestone headquarters – all because we were introducing Milestone Care – a completely new approach to support and maintenance. Milestone Care, through its four distinct levels of supplemental support, enables us to offer new and additional ways of supporting Milestone customers.
A level to meet every need
And now an even better value!
Beginning January 1, 2016, customers will no longer need to purchase Milestone Care for their XProtect® add-on products. If they have Milestone Care on their VMS, it will also cover all add-on products associated with that installation. This makes Milestone Care an even more attractive offering for providing supplemental support to Milestone customers.
Need a refresher?
Check out the Milestone Care section on our website to find out which level is right for your customers.
To get a brief introduction to the entire program, watch our Milestone Care video.