3月 25, 2021
Alberto Bruschi, or Indy as his friends call him, is a 10
th
generation Milanese who joined Milestone six years ago, after holding various positions in engineering, sales, and business consulting.
In
this interview
we wanted to hear about what
makes a salesperson tick and how Albert
o
, our Regional Sales and EMEA Community Manager, describes a regular day at the job.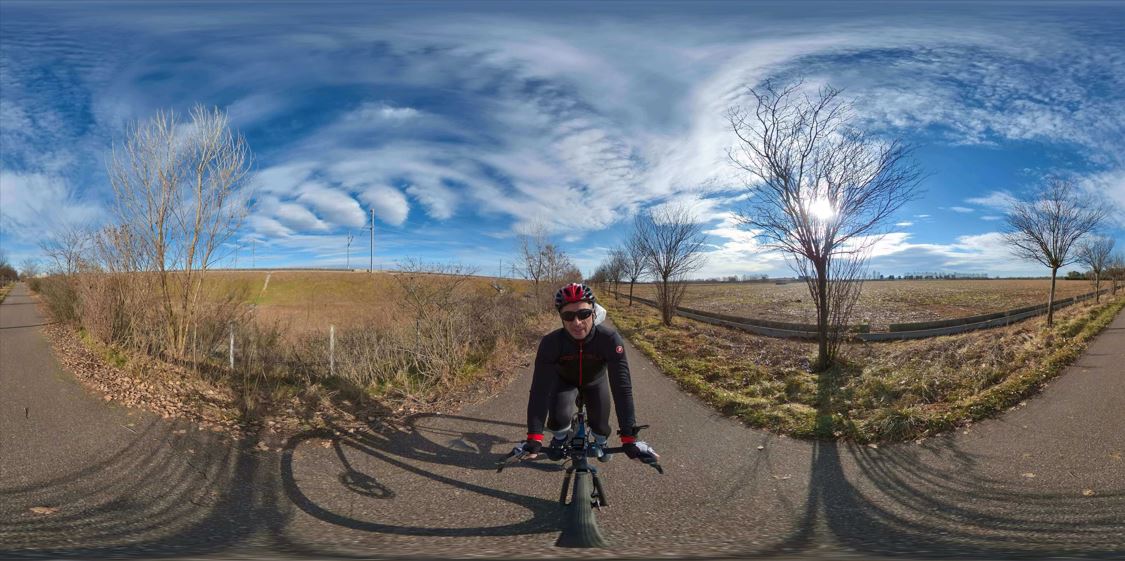 Alberto grew up with
parents
who both were entrepreneurs
, a brother and three cousins. His father was a
promising
indoor cyclist and a member of Italy's Olympic team
, although
sickness in the family
ultimately prevented
him from competing at the Olympics
.
The interest in sports
didn't skip a generation
, and Albert
o
is not only a sports fan but also quite
the
cyclist himself.
"A passion I certainly got from my dad," says Albert
o
and explains how cycling gives him
an
opportunity to
both
enjoy the outdoors and open air
while setting ambitious
targets
that he'll do
everything in his power to reach.
Just like in other
aspects of life.
However,
his approach to cycling has change
d
drastically through the years.
"In the past I only focused on speed and endurance, cycling 150-200 kilometers with a speed of at least 35-38 km per hour
.
Nowadays I see cycling much more as a possibility to visit new places, go unusual routes and see different landscapes, while speed itself is not that important. Today, I wouldn't even consider trading all the things you see while biking
for
more speed."
A chance to put things back in their right place
Alberto's
view on life has also changed over time, especially during the past year
as Italy, l
ike most of the world, has had its share of serious difficulties brought by
the
COVID-19
pandemic
.
"The past year has had a strong impact on us all. I always do my best to see the glass half full and accordingly I think the challenges we've been going through have given us multiple learnings we need to treasure for the future
,
"
says Alberto
,
who lives with his wife Anna and their two kids
aged
16 and 11
.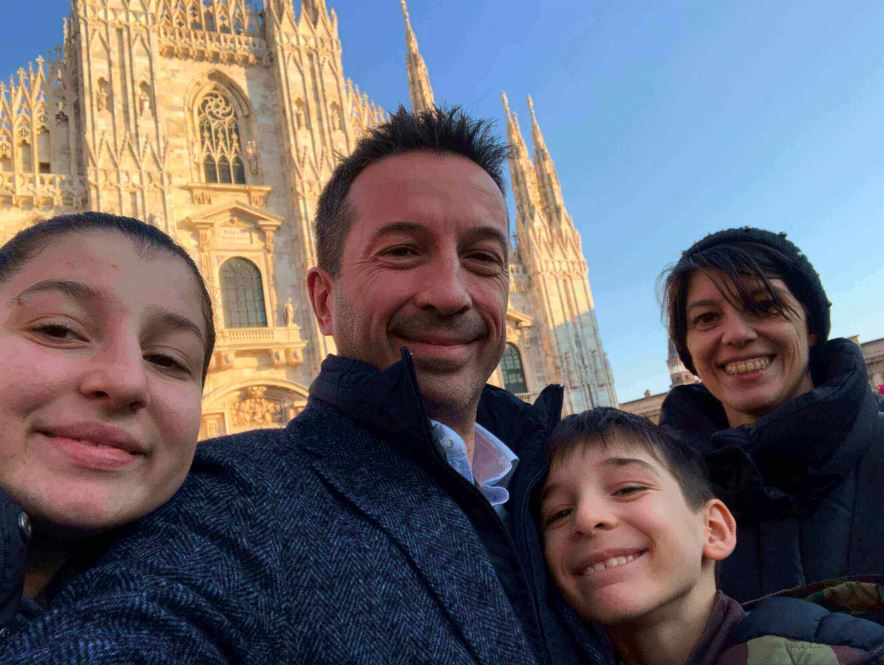 He
adds that it was quite a change for four people with different routines and needs
to suddenly be at home at almost all times
.
But for Alberto, relocating from
the
office to home was not the only change
;
his job used to
involve
a lot of travel.
"I was used to traveling a lot and sometimes I was on the road four to five days a week. I must admit that it was very strange to suddenly go from that to working from home all day, every day
.
H
onestly, I had never thought that could happen!"
After a full year of different routines, restrictions and various challenges, Albert
o
says that despite everything it can be a good opportunity for us all to rethink our lives and our real priorities.
"I've realized that the speed we were used to has sometimes made us lose what is really important. This unexpected and shocking slowdown has given us a chance to put things back in their right place."
Indiana Jones or inventing a time machine
Alberto studied Electronic Engineering at the scientific-technological university
Politecnico
of Milano and later Sales Management at SDA Bocconi School of Management.
"When I was young my dream was to become an archaeologist," Albert
o
answers when asked why he chose this path and adds with a laugh: "And that's why I studied electronic engineering!"
"Joking apart, on one hand I've always had the passion for history, ancient cultures and undiscovered mysteries, and on the other hand I'm fond of innovation, technology, and business. So, you could say that I jumped from the dream of being Indiana Jones, which is why my friends call me Indy, to trying to become a crazy inventor of a time machine!"
After university, Alberto started working in the security sector.
"I started working for
Telea
, first as a solution engineer and later I became sales manager. From there I went to
Cieffe
, a small manufacturer of the first digital recorders and IP cameras, in 2005. There I became sales director which meant travelling the world was a big part of the job."
In 2007,
Cieffe
was acquired by March Network. There Alberto became VP of EMEA Sales, focusing on creating a strong sales organization, and later VP of Business Development.
"
I left
March Network in 2011
and
joined
Dallmeier
for a couple of years.
After that
I decided to
become
a business consultant
,
focused on
helping
small Italian companies
to
launch
their business abroad and to develop their sales organization
."
When asked
about the best and the worst job he has had
, Alberto
thinks for a while before answering: "It's actually quite difficult to answer this question because, one way or another,
I've always liked my jobs and I feel like each experience has given me some specific skills that have become useful later."
"But what makes a job a great one is when teams are involved, and people are motivated to achieve their goals. And that's exactly why I love my current job where I can see and feel how my teams are growing!"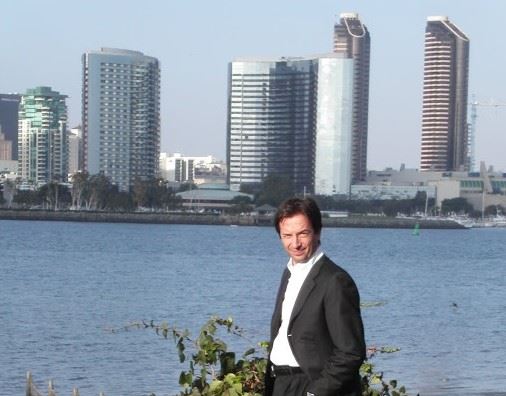 You need to love adventures
"You might not believe it, but that's where Indiana Jones comes in!" Albert
o
says
when asked
how to
become
a good salesperson.
Now, having heard what it takes to
succeed in sales, what is Alberto's
most memorable sales adventure
?
"Once I had the task of negotiating the complete supply for a refinery. It was to be my first billion deal and after six months hard work everything seemed done. Then, when I came to the customer to close the deal, he asked for
an
extra discount, which was something I couldn't give," Alberto
recalls
.
"
My reaction was something
like
:
'U
nfortunately I
can't
give you
an
extra
discount,
but I can guarantee you my
sincerest
gratitude
' and we closed the deal
!
" he says and adds: "I was extremely happy with this deal, because I could fell that eventually the customer made his
choice
based
on me, my person
and
professionality,
rather than
what I was
actually
selling him
."
"
My father was still alive at that time
. A
fter the meeting I went directly to the hospital to tell him
about it and h
e was so proud of me
. I don't think anybody
can imagine
the
happiness
that gave me."
The only ones who never fail are those who never take any risk
In his
position as Milestone's Regional Sales and EMEA Community Manager, Albert
o
is
responsible for
sales in
the southern Europe
an
region and
heads
our
EMEA team
. When asked about
a regular day at the job, Alberto says: "M
y role is
to support the team to keep its focus,
work with all team members to solve specific challenges, grab opportunities and drive the results."
"Every day I participate in various meetings, not only with the EMEA team, channel partners and technological partners but also with other departments within Milestone, such as
marketing, communication, technology group, other regions, and so on. I'm convinced that this strong cooperation between different functions is the key for the entire company's growth."
He also explains his responsibility
is
to
define the correct long-term strategy and the best tactics to implement it
but emphasizes that he
does not believe in micro-managing:
"My focus is on growing my team and to support every single team member. I believe that a
s a leader I must
support
the growth of my employees,
be
a good
example
for others but also to be
a guide that fights with and for the team.
"
When asked if
he thinks he always succeeds in being the leader he want's to be, Alberto answers quickly:
"
Of course
you can fail, but if you take it as another opportunity to grow, you can learn a lot from it.
The only ones who never fail are those who never take any risk! Or as
Jeff Bezos
would say,
failure
is
experience
."
Milestone is a company I would strongly recommend working for
Alberto joined Milestone in 2015, but why did he decide to do so?
"To be honest,
I chose
to join
to
Milestone
because
I knew it would be a real
challenge
!"
Alberto
answers with a
laugh.
"
At that time, Milestone was declining in Italy, for many reasons, and I
saw joining as an opportunity
to prove –
mostly
to myself
–
that I was the right choice to give Milestone another opportunity on the market
with clear targets and the ambition to achieve them
," he explains and adds that he
was also
convinced that
Milestone was
a great company
.
In his daily tasks
,
Alberto says that
his number one motivation are the challenges the job brings. "But what really brings the job to life
is to be a part of a growing team where
passion, professionality, cooperation, hard work and consistency bring
us to our
goals.
"
"
My experience is really good so far
," says Albert
o
when asked about his overall experience of Milestone through his s
i
x years on the job, and adds with a
smile
: "
Of course, n
ot everything is perfect
–
but could you name me one
company that does everything
r
ight
?
"
"With t
hat all said,
Milestone is a company I would strongly recommend work
ing
for!
"
Gunnlaugur Bragi Björnsson
Communications Associate
Ready to see what we have to offer with smart video technology? 
Book a demo