Show customers you Care™
木曜日, 10 1月 2019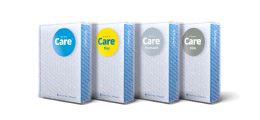 著者: Stephanie Kinch
Product News
Show customers you Care™
Our new sales kit helps you sell Milestone Care and give your customers the support they need
We are committed to helping you and your customers take full advantage of XProtect and get the most out of the investment. That's why we designed Milestone Care™, a complete service and support program that takes care of the product throughout its lifetime.
Our new Care™ sales kit makes it easier for you to show your customers the advantages of the program and its suite of operational and support service packages.
The Milestone Care™ Sales Kit includes:
Milestone's new Version Comparison Tool which visualizes the innovation and added features of each version to allow customers to understand the true value of Care Plus and when it's time for a product update
A new Care brochure, which gives your customers a full understanding of the Care program and how each of the Care packages helps meet their needs
Care™ Plus and Care™ Premium Sales Sheets that describe our two favored Care packages. Use these individual sheets to supplement the Care brochure when approaching customers that want the details of the packages
An eLearning course that goes into detail on the fundamentals of the Care program. This can be used for your own knowledge and for customers, who can take the course at their own pace.
A sales presentation to help you better present and sell Care to your customers.
A new Care site for more information on Care and how your customers can use it.
At Milestone, we are committed to helping you and your customers easily find what you need. That's why you can now find all Care materials in one place. Check out our new Care Collection here.