giugno 01, 2021
Die neue
Gesetzesinitiative
des Verkehrsclubs Deutschlands für ein neues Bundesmobilitätsgesetz soll einen rechtlichen Rahmen schaffen, um den Deutschen Klimazielen gerecht zu werden und neuen Technologien mehr Raum zu geben. Aber welche Partei und welche Abgeordneten thematisieren überhaupt Smart Mobility – gerade kurz vor der bevorstehenden Bundestagswahl?
Die Ergebnisse der entsprechenden Analyse sind in den folgenden Grafiken zu sehen:
Die Union spricht am meisten über das Thema Smart Mobility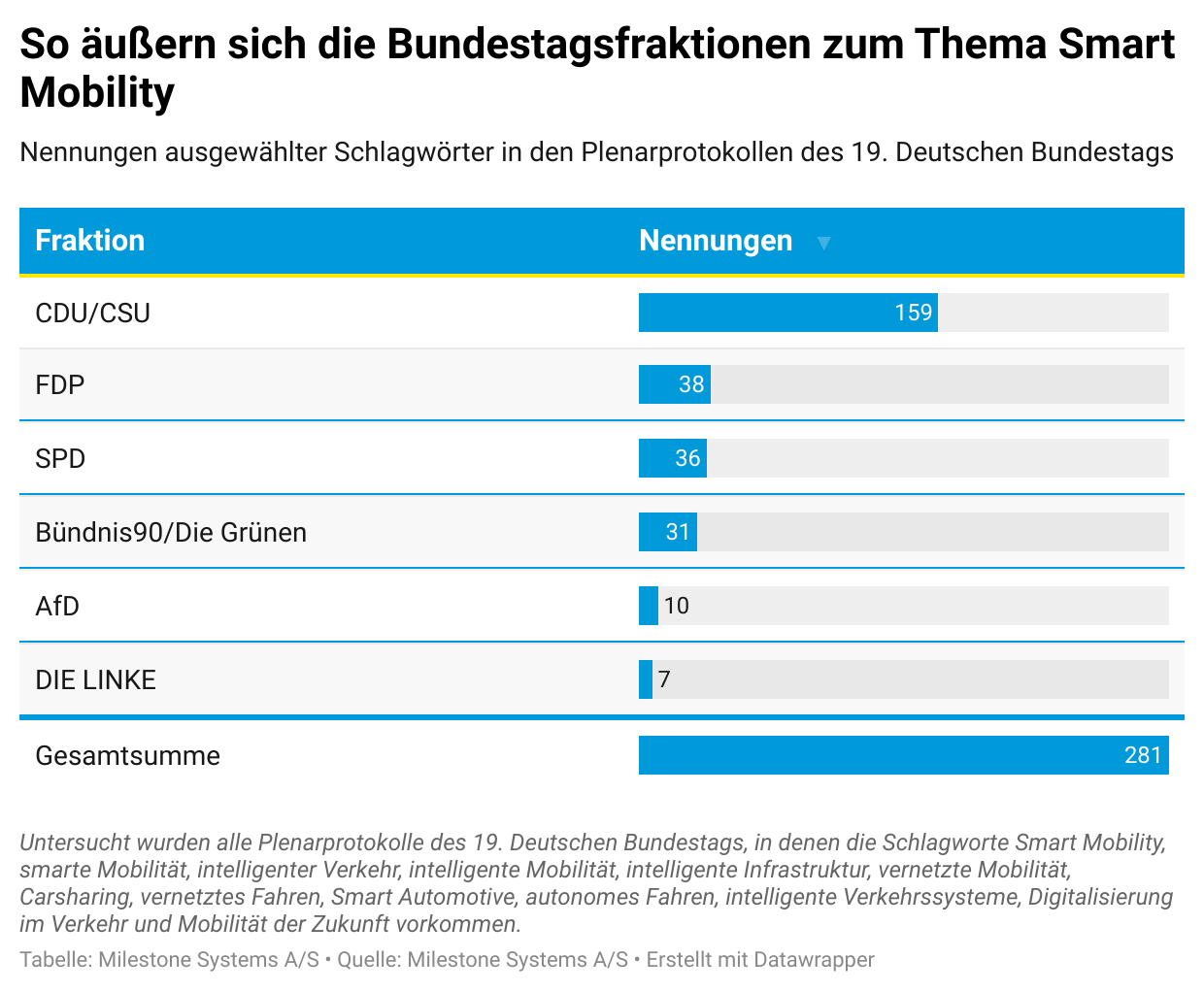 Dr. Christoph Ploß (CDU) äußert sich am häufigsten zu dem Thema intelligente Mobilität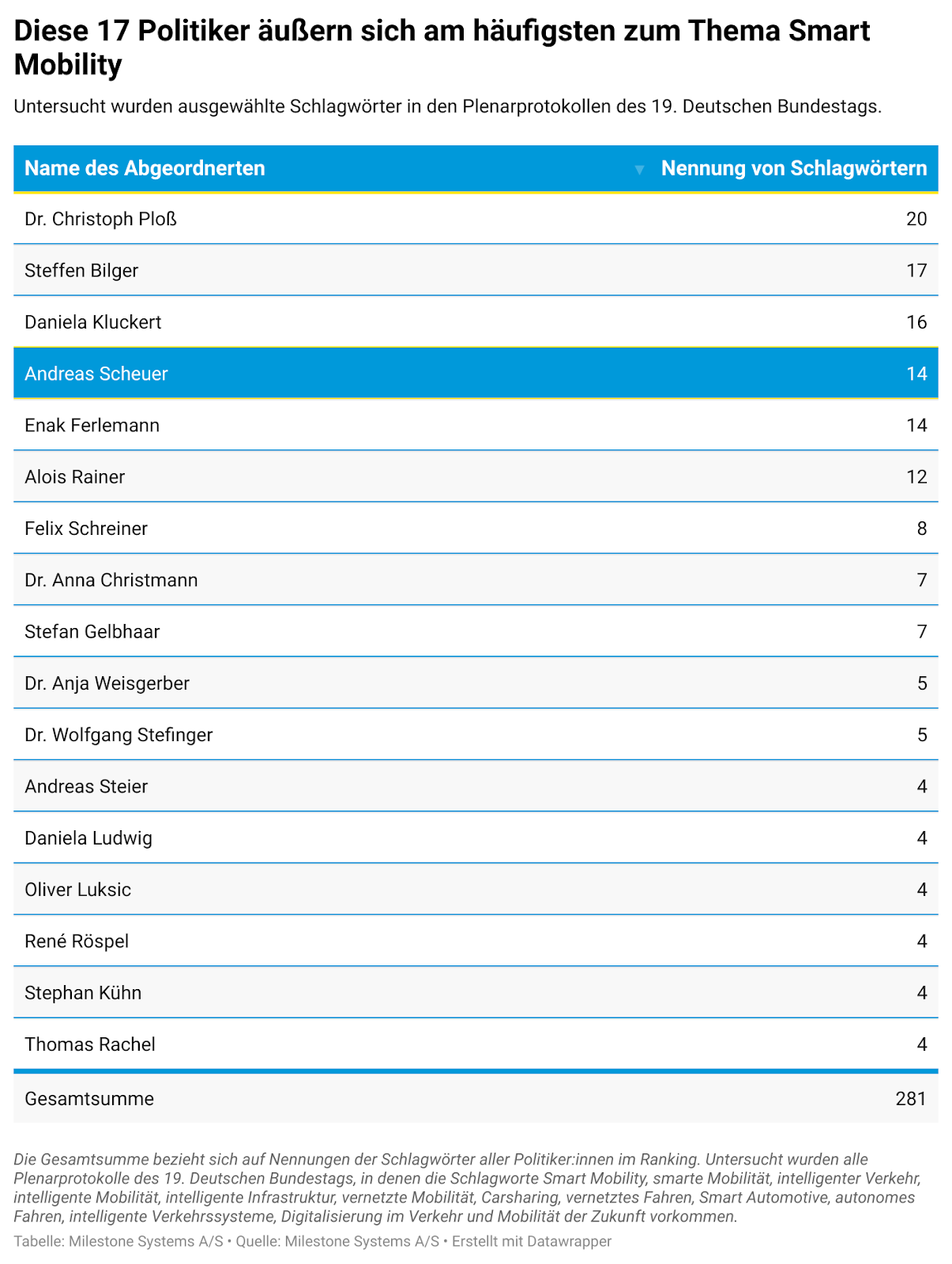 Die komplette Liste aller Politiker:innen kann auf Anfrage als interaktive Grafik zum Einbinden zugeschickt werden. Wenden Sie sich mit Ihrer Anfrage bitte an: jannes.zwirner@tonka-pr.com

Außerdem wurde analysiert, welches Bundesland in der letzten Legislaturperiode am meisten in den Erhalt und den Ausbau von Straßen investiert hat und welche Gelder in sonstige Bereiche des Personen- und Güterverkehrs investiert wurden.

Das investierten die Länder in den Erhalt und Ausbau ihrer Straßen pro Kopf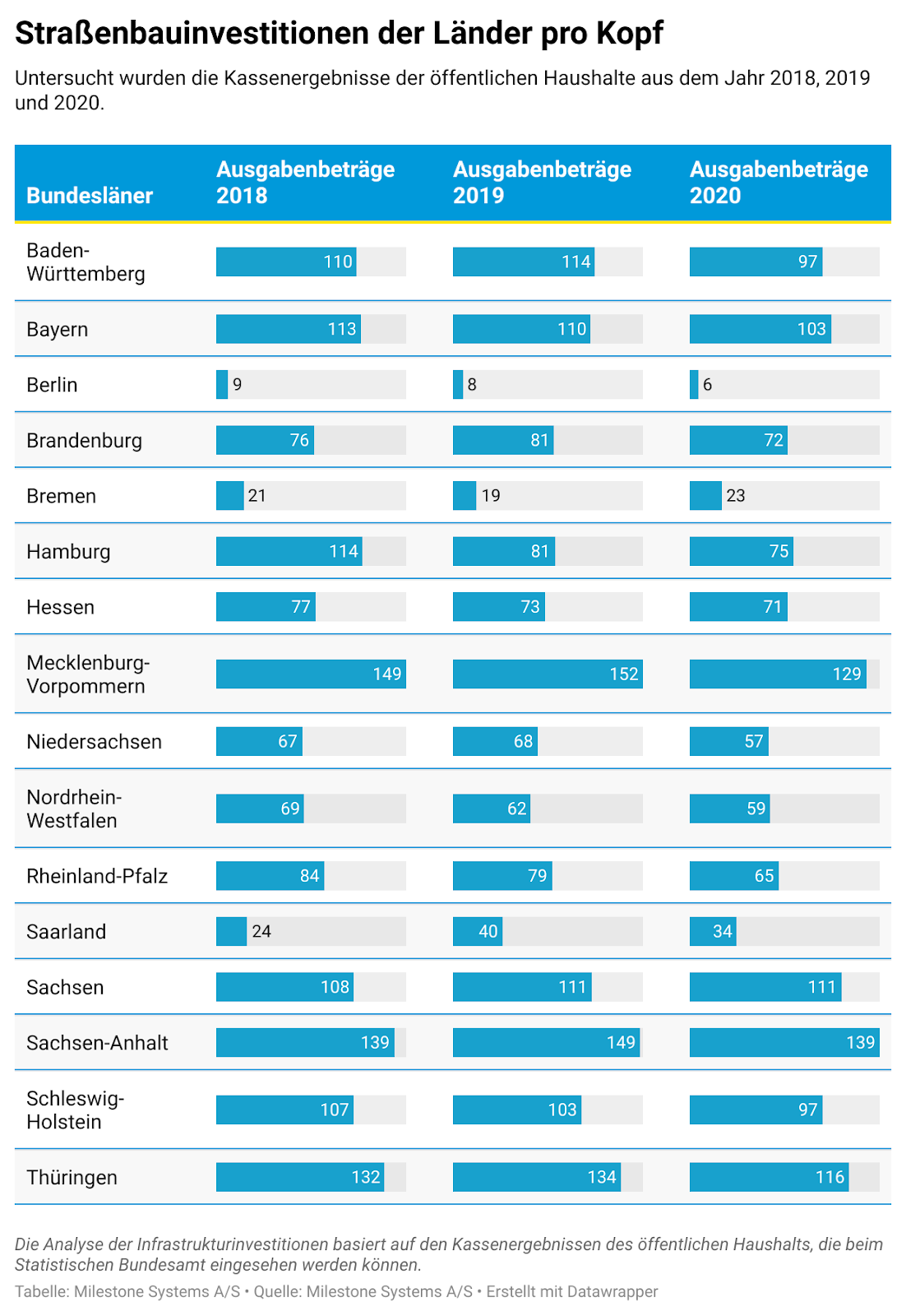 Hier wurde das meiste Geld in den Personen- und Güterverkehr investiert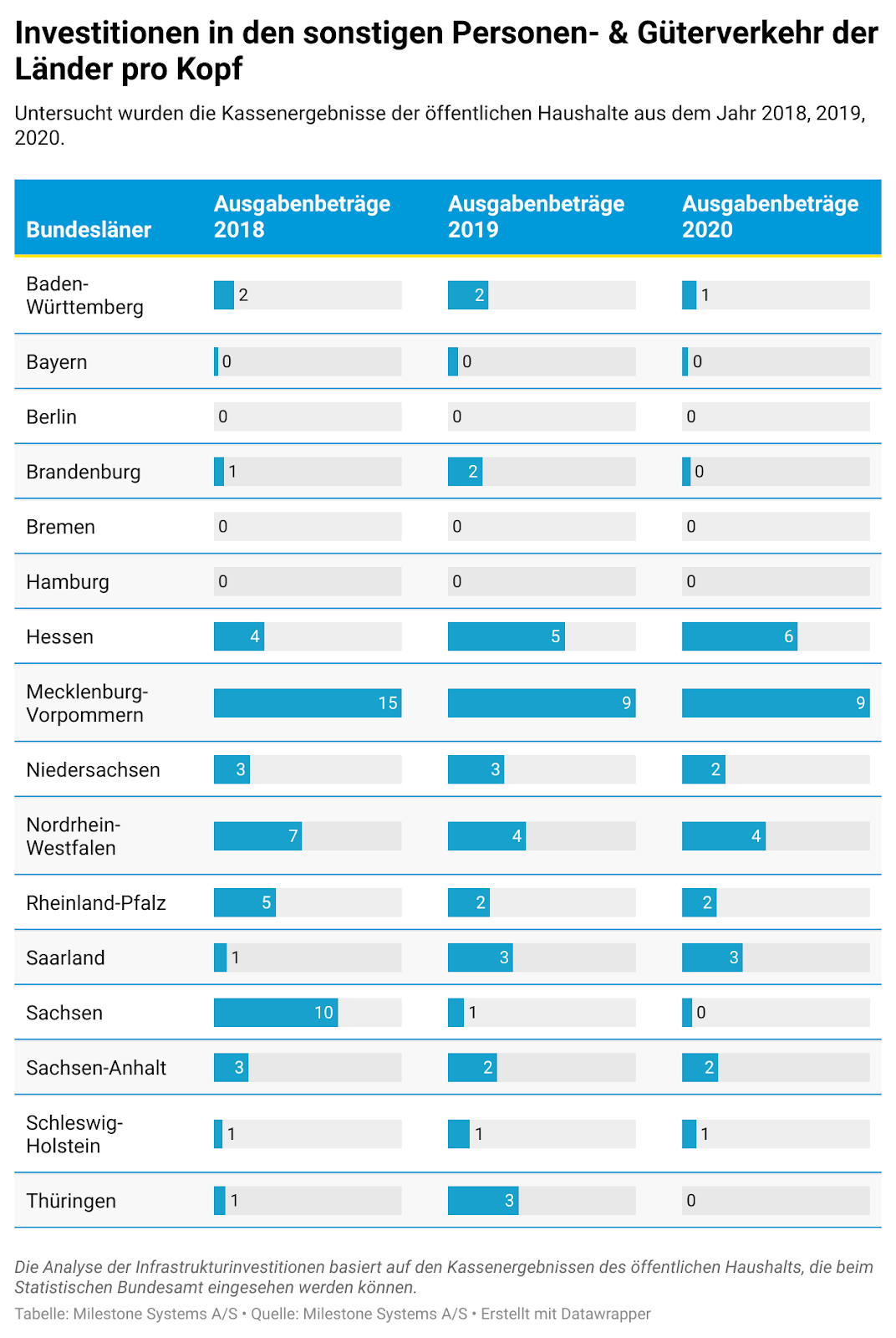 Hinweis zu den Grafiken
Alle Grafiken können auch als interaktive Grafik zum Einbinden in Ihre Webseite zugeschickt werden. Wende Sie sich mit Ihrer Anfrage bitte an: jannes.zwirner@tonka-pr.com.

Über die Untersuchung
Die Zahlen zu den Nennungen von Schlagwörtern wurden mittels der Plenarprotokolle der Sitzungen des 19. Deutschen Bundestags entnommen. Untersucht wurden alle Plenarprotokolle, in denen die Schlagworte Smart Mobility, smarte Mobilität, intelligenter Verkehr, intelligente Mobilität, intelligente Infrastruktur, vernetzte Mobilität, Carsharing, vernetztes Fahren, Smart Automotive, autonomes Fahren, intelligente Verkehrssysteme, Digitalisierung im Verkehr und Mobilität der Zukunft vorkommen. Die Analyse der Infrastrukturinvestitionen basiert auf den Kassenergebnissen des öffentlichen Haushalts, die beim Statistischen Bundesamt eingesehen werden können.
Marlene Lyhne Sørensen
Communications Manager, EMEA
Ready to see what we have to offer with smart video technology? 
Book a demo