Did you know that Milestone supports these kinds of devices?
martedì, 4 dicembre 2018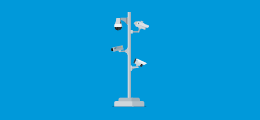 Autore: Toyah Hunting
Product News
Cameras do represent the vast majority of the more than 7,200 devices supported by Milestone XProtect® open platform software. But did you know that Milestone also supports other types of devices, beyond cameras and encoders?
There are many different types of devices out there. We believe in bringing them all together to provide the best possible basis for choice for our users.
Here's an overview:
Body-worn cameras
We've seen a surge in interest for these types of devices in recent years. Just think of how the police forces, security guards, hospital staff and other people who need to be on the move can benefit from having a set of eyes on and with them at all times.
Even though these devices are technically cameras, they differ from standard fixed surveillance cameras. They differ by being mobile, but also by recording on the SD card being their main functionality
A few of our body-worn camera partners
Almost all of these partners' products are integrated through the ONVIF protocol, both for live video and edge storage recording.
Check out Milestone's ONVIF Driver Documentation
Listen up: we also support audio devices
Audio is also an important part of a surveillance system, as it allows operators to address people remotely – whether it is for standard access control purposes, sending out warnings or deterring undesired behavior.
Perimeter Detectors (radars)
Radars detect movement. That means they are not prone to visual false alarms, like moving shadows or light flashes. They are great assets to the traditional (video-based) surveillance system.
Input/Output devices and sensors
They can receive and send signals. That means you can use them to do anything your needs require and let XProtect manage it all. For instance, if you have a fire system, you could connect it to XProtect to turn on water, open/close doors, turn on lights - even monitor the weight of trucks and send a message that the freight is too heavy. These devices and sensors basically allow us to connect to systems that would otherwise be unavailable.
Check out all our 7200+ Supported Devices
Find all the info about our bi-monthly Device Packs