4 ways to keep or improve your Milestone partner level
lundi, 5 décembre 2016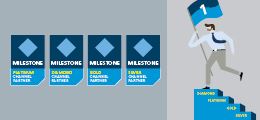 Auteur: Toyah Hunting
Partner News
4 ways to keep or improve your Milestone partner level
At Milestone, we unite more than 13,000 channel partners, 150 Camera Partners and 1,200 Solution Partners in long-lasting and successful partnerships. This unique partner community is ready to meet any security or surveillance challenge, regardless of size, complexity or location.
Our Channel Partner Program is designed in a way that rewards increasing commitment to Milestone products and services. Channel Partners with a demonstrated track record of successful Milestone sales and product knowledge can progress in their partnership level to get more benefits, sales incentives and rewards.
Here are four ways to keep or improve your Milestone partner classification:
1. Find your current classification
Log into MyMilestone and the partner classification page if you're uncertain of your current status.
2. Get to know the updated partner requirements
As of January 1, 2017, you need to successfully complete our new certification assessment to improve your partner level. Find them here.
3. Find out when your next training class is scheduled…
…And book a time here. It is important to note that Milestone has separated our certification assessments from our training classes. This means that attendance at a training class is not required to gain a certification; only passing the online assessment is now required.
4. Talk to us if you're in doubt
Contact your Milestone representative or our Sales Support team if you're in doubt about what to do to keep or improve your partner classification with Milestone.