RoadRecorder® 8000: Keep your eyes on the road
lundi, 5 décembre 2016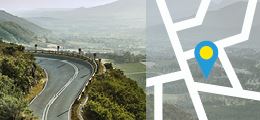 Auteur: Toyah Hunting
Solution Certification
RoadRecorder® 8000: Keep your eyes on the road
Get the overview: View fleet cameras side-by-side with stationary cameras
Do you need to view cameras on your fleet of buses, vans, rail cars or trucks side-by-side with stationary facility cameras on platforms, loading docks and maintenance facilities?
RoadRecorder 8000 network video recorder is certified to work with our powerful XProtect® VMS. This mobile recording server allows up to 36 cameras to be viewed in the XProtect product suite.
Monitor what you can't otherwise
Typical camera views include out of the front windshield, cabin view facing the driver, interior passenger or cargo compartment and rear views. Cameras located in strategic positions give views you can't get otherwise, for instance the bucket of a front-end loader or in the bed of haul trucks.
The RoadRecorder 8000 allows you to monitor lights, windshield wipers, doors, wheelchair ramps and special equipment such as refuse truck hoppers, heavy vehicle loaders and fire truck ladders.
Scalable performance
Select from multiple available processor and storage options to power the number of cameras you require.
Open architecture
Up to 16 inputs permit a variety of equipment to integrate with the video surveillance system, like lights, doors, ramps, signals and more. The new video out feature makes it easy to include a monitor displaying live images for collision avoidance.
Compatibility standard
Multiple power supply options allow the RoadRecorder 8000 to cohesively integrate with any vehicle platform. With M12 connectors and available solid-state hard drives, this mobile recording server meets the stringent EN50155 standard for railway rolling stock.
This recent certification represents a great opportunity to co-sell advanced XProtect VMS with ruggedized Safety Vision servers.
Learn more about Safety Vision
Find the RoadRecorder 8000 in our Solution Finder