MAKING OUR
STREETS SECURE
Ensuring public safety for everyone requires new ways of thinking. Data-driven connected video technology will help you rethink and simplify city safety management.
See articles, insights and 14 success stories on how to improve city life
Because not every city has a superhero to protect it
To live, work and raise families without worry, city residents should feel safe and secure.
Video technology allows city authorities to improve safety across the board: from surveillance and situational awareness, to crowd management and predictive analytics.
Using XProtect® as the connected video core, law enforcement, emergency services, security operators and others can react faster to incidents.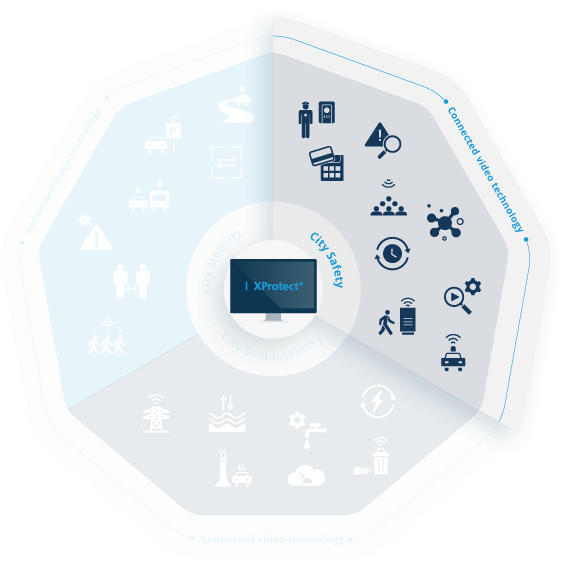 How video technology creates safer cities
This ebook details how cities around the world are turning to video technology to improve safety, mobility and sustainability. You will also learn how Milestone can make safe city thinking a reality.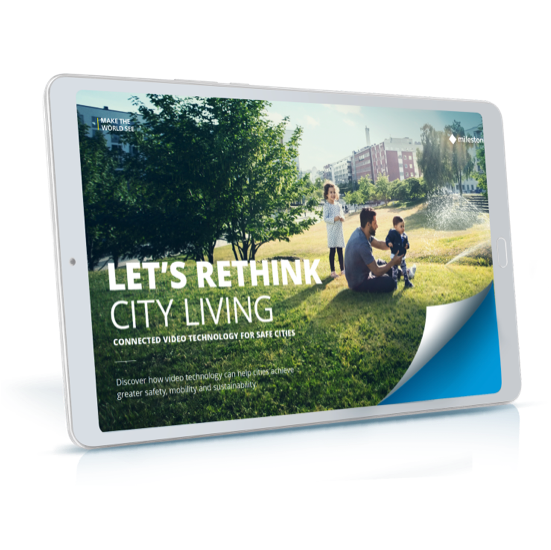 CITY SAFETY VIDEO SOLUTIONS
When every second counts, video technology buys you time
Resolve incidents and save lives more effectively by enhancing collaboration between teams while giving first responders fuller situational awareness. Follow up with advanced post-event evidence gathering and analytics.
Read more
Keep track of the headcount to avoid overcrowding
Maintain safety, detect abnormal behavior or simply provide a more convenient and smoother experience at events or transport hubs. All can be achieved using technologies ranging from digital signage to heat mapping and crowd counting.
Safeguard peoples' everyday by having video as your eyewitness
Exploit the full potential of cameras and analytics to quickly investigate and resolve crimes. Use the data and analytics to develop preventative measures to better protect the public and property and save costs.
Read more
Explore more video solutions
Access control and authorization
Protect property by ensuring that only authorized people can enter areas or sites at the right times of day.
Read more
Real-time patrol monitoring
Deploy body-worn cameras to help law enforcement and security teams gain full situational awareness and conduct post-event investigations.
Read more
Pandemic response
Enforce social distancing and masks using heat mapping, digital signage and facial recognition. Includes no-contact access and infected individual tracking.
Read more
Event management
Mitigate the damage of critical events by ensuring the clearest lines of communication and situational awareness across departments and jurisdictions.
Read more
Real-time visualization
Establish centralized control centers to help you understand what's happening in real time, identify any risks or emergencies, and increase communication and collaboration.
Read more
Citizen engagement and information
Use digital signage and traffic signals keep people informed in real time, with the option to reroute them in crowd situations to ease congestion.
Public building security
Monitor public buildings' entry points and occupant behavior. Also allows movement analysis while preventing unauthorized access.
Make complex citywide solutions easier to manage
XProtect Corporate is designed for large-scale and high-complexity solutions. Entire connected cityscapes can be efficiently administered from a single management interface.
It features advanced video grooming functions and encryption capabilities to reduce video storage costs, while ensuring integrity and industry compliance. You also have the freedom to adapt and scale solutions as your safe city needs evolve.
XProtect's open platform architecture provides full flexibility and scalability to build end-to-end video solutions. You can integrate a vast selection of third-party software and devices.
Combine diverse systems and devicesinto a single, centrally operated and managed solution — with XProtect as the reliable hub. Allows easy scaling and operational efficiency.
Highlighted XProtect Features & Functions
Find what you're looking for, fast!
Accelerate investigations with this advanced forensic analytics solution. With XProtect Rapid Review, you can review, search and analyze hours of video in minutes, and pinpoint people, objects and behaviors of interest immediately. Powered by BriefCam technology, this XProtect add-on puts an end to spending countless hours behind a screen.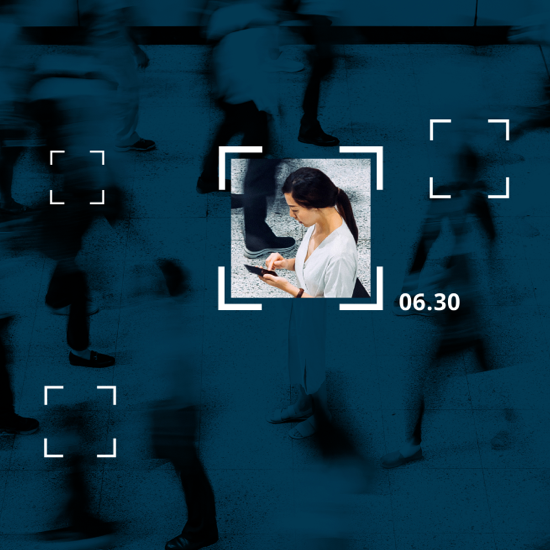 Collect and connect all video insights
Put an end to silos. Smart Walls enable security operators to view citywide video feeds, maps, alarms and text messages in a single intuitive and flexible video wall. It's ideal for assessing and coordinating responses to incidents.
Learn more
Get a single picture of all installations
Finally get a complete overview of complicated cityscapes. Smart Map lets operators access and navigate between devices and locations on a highly visualized map integrating GIS maps, CAD drawings and Google and Bing maps.
Learn more
Rank results by relevance
Work smarter and more efficiently by gathering all video search functions in one place. A function in XProtect Smart Client, centralized search makes finding a specific incident or video sequence easier by aggregating all data types registered in the platform.
Watch demo video
More XProtect functions for safe cities
Privacy masking
Ensure users see only what they need to. Privacy masking is an easy and cost-efficient way to protect privacy without compromising security. It lets you conceal selected sections in live and playback video, as well as in exported material.
Download feature brief
XProtect Alarm Manager
Get an instant overview of potential threats or critical events. Alarm Manager centralizes all alarms and notifications in one place. Almost any kind of incident or technical problem can be set up to trigger an alarm and adapted to precise needs and parameters.
Watch demo video
360-degree dewarping
Increase situational awareness and reduce camera costs. This functionality means a single camera can track a moving object, eliminating the need to switch between cameras. The upshot is the need for fewer cameras without sacrificing coverage.
Watch demo video
Video Push
Share live video on the go. Video push allows live video streaming into XProtect from mobile device cameras. First responders and security operators can share footage in real time, collect first-hand evidence and cover angles not covered by fixed cameras.
Audio support
Increase collaboration and information sharing. Audio support adds speech and sound capabilities to connected cameras. This adds another security layer plus allows communication with staff or others for functionalities such as access control.
Evidence lock
Ensure important video material integrity for evidence gathering. Evidence lock allows the manual extension of video retention time for a selected camera set. Operators can manage and select an extended retention time from a pre-defined set of options.
Find all the XProtect products and expertise you need
Marketplace connects a global network of XProtect compatible software, hardware and expertise providers. The intuitive filters ensure you can find and compare the best products for the job, as well the experts to help make your safe city aspirations a reality.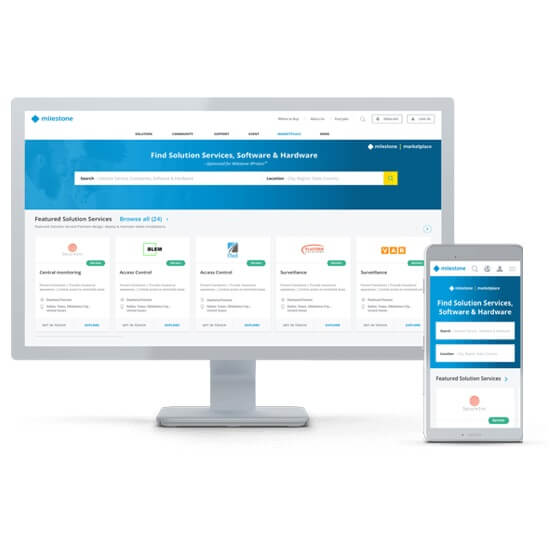 Find the 3rd party software or hardware you need to solve your city challenges
Let our experienced solution service providers help build your city solution
Secure by design, XProtect is also GDPR-ready certifiedand can be operatedin FIPS 140-2 compliant mode.
Count on the highest security standards thanks to tiered administratorand user rights, and the strictestsecurity procedures.
Responsible use of technology
Our commitment to the responsibleuse of technology is embeddedin our products, people and our approach to the global market.
Recommended city safety insights
See Milestone in action with a demo that's customized to your business and needs.