NEW! Arcules-XProtect Hybrid Solution
tiistai, 21 tammikuuta 2020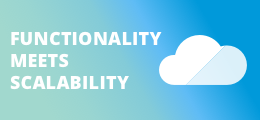 Powerful functionality meets simplified scalability. Arcules Video Surveillance as a Service (VSaaS) integrated with XProtect on-premise video management software (VMS) delivers a hybrid solution designed for organizations looking to centralize their dispersed surveillance operation.
The Arcules VSaaS integration with XProtect on-premise VMS is the first step in Milestone's journey to provide an answer to the increasing interest in cloud-based VMS solutions. This first version will provide a flexible and feature rich hybrid video surveillance solution. The solution is ideal for organizations looking to centralize their dispersed video surveillance operation.
With cloud architecture at its core, and leveraging on Milestone Interconnect™ technology, the solution combines the simplified scalability and purchase flexibility of Arcules cloud service, with XProtect's native capabilities. This results in uniform access to live video, recordings and alarms across cameras connected physically on-premise and virtually via the Arcules cloud.
The solution allows businesses looking to expand their surveillance operation across geographically dispersed locations to deploy new remote sites fast and with minimum IT resources and downtime, while getting centralized access to their system. Once deployed, the solution provides access to the entire system through XProtect Smart Client, XProtect Smart Wall, as well as the web and mobile clients.
Organizations of all sizes can now enjoy enterprise-grade infrastructure built on Google Cloud Platform, low latency, data encryption and global back-up. In addition, users can also benefit from automatic updates and compatibility between sites, low maintenance, faster deployment and streamlined training due to the underlying cloud architecture of Arcules VSaaS.
Arcules - XProtect Hybrid Solution also adds value to monitoring stations and law enforcement organizations that use XProtect as their VMS platform. Such organizations can now access cameras and customers subscribed to the Arcules cloud service directly from their on-premise XProtect system.
Arcules - XProtect Hybrid Solution is a global* offering available as of February 11.
*Availability outside of North America and Europe is based on datacenter availability.
Interested in the hybrid solution?
Connect your XProtect system to Arcules VSaaS cameras free of charge for a limited time only!