Twenty Minutes for Excellence 2.0
perjantai, 31 tammikuuta 2020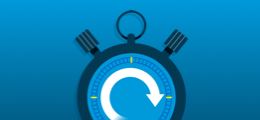 At Milestone, we're committed to our partners. Your success is our success. That's why we launched the webinar series called Twenty Minutes for Excellence last year. Short, informative and interactive webinars where we asked experts to share the essentials of their trade in efficient webinars.
The webinars were extremely well-received, and due to high demand from our community, we have decided to continue the initiative in 2020.
Here, you can follow our schedule, read about upcoming webinars and sign up if you feel like joining us for informative sessions about releases, trainings, marketplace, and much more.
If you have any questions regarding our webinars or want to suggest a topic that might be relevant for you and other partners, don't hesitate to contact Nia Konstantinova, Regional Marketing Manager, on nik@milestonesys.com
February 12, 11:00 (GMT +2)
Twenty Minutes for Excellence: Knowledge is Golden: Explore Milestone's Trainings and Certifications
Have a New Year's resolution to hit higher targets than ever before in 2020? Join us in the first 20 Minutes for Excellence Webinar this year and learn about how Milestone Trainings can help you sell, install, configure, and maintain Milestone's VMS!
SAVE ME A SPOT
March 18, 11:00 (GMT +2)
Twenty Minutes for Excellence: Explore XProtect 2020 R1
All good things come in threes and Milestone Releases are no different! Join us to learn more about all the exciting new features in our first 2020 release (R1).
SAVE ME A SPOT
April 15, 11:00 (GMT +2)
Twenty Minutes for Excellence: This is how we do it: Drivers & Device Packs
Old devices – new devices; big devices – small devices: Milestone does it all! Today, we support more than 8000+ devices and we do not plan to stop increasing this number!
Join us to learn more about our drivers and device packs from our leading experts.
SAVE ME A SPOT
May 13, 11:00 (GMT +2)
Twenty Minutes for Excellence: Get your answer during Presales FAQ webinar
This webinar will go through the most frequently asked questions about presales and give you the insights and knowledge needed to take on obstacles and challenges. The webinar will include a short demo or an oral explanation.
SAVE ME A SPOT
June 10, 11:00 (GMT +2)
Twenty Minutes for Excellence: Marketplace
Here at Milestone, we truly believe in the Open Platform philosophy. The Marketplace is the crown jewel of our efforts to build a truly open environment to showcase your solutions and their integration with XProtect. During this webinar you will learn more about the advantages and benefits that come with being present on the platform!
SAVE ME A SPOT
July 15, 11:00 (GMT +2)
Twenty Minutes for Excellence: Explore XProtect 2020 R2
All good things come in threes – Milestone Releases are no different! Join us to learn more about all the exciting new features in our second 2020 release (R2).
SAVE ME A SPOT