Tutustu Power of Video -tapahtumiin
maanantai, 7 lokakuuta 2019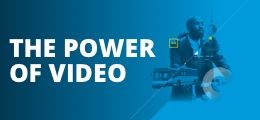 Laatija: Tue Ingemann Paarup
Event News
Nykyään voimme videon ja videoteknologian ansiosta optimoida liikennettä suurimmissakin megalopoleissa, estää rikoksia ennen niiden tapahtumista ja suojella uhanalaisia lajeja jopa planeetan syrjäisimmillä alueilla. Vastuullisesti ja ihmiskunnan hyväksi käytettynä videolla on voima parantaa hyvinvointia ja elämänlaatua huomattavasti – kattaen kaikki elävät olennot, jotka kutsuvat tätä vihreää planeettaa kodikseen.
Juhlistamme Power of Video -kampanjan myötä videon tarjoamia uskomattomia mahdollisuuksia. Tämä kampanja pitää sisällään useita tapahtumia EMEA-alueella sekä upouuden, korkeatasoisen kampanjavideon, Power of Video, joka on suunnattu niin teknologiakumppaneille, integraattoreille kuin loppukäyttäjillekin.
Yhdessä Axiksen, Dellin ja Intelin kanssa kutsumme teidät Euroopan ja Lähi-idän kiertueelle keskustelemaan modernista videoteknologiasta sekä tutustumaan siihen, miten se voi auttaa ratkaisemaan vähittäismyynnin, kuljetusteollisuuden sekä turvallisen kaupungin liiketoimintahaasteita.
Kampanja on ensimmäinen laatuaan. Olemme todella innoissamme ja toivomme, että liityt mukaan keskusteluun osallistumalla johonkin lokakuun tapahtumistamme. Voit ottaa mukaan yhden tai useamman asiakkaasi. Olemme avoin yhteisö, joten kaikki ovat tervetulleita.
Epäröitkö vielä? EMEA-alueen varatoimitusjohtaja Malou Toft kertoo, miten maailman tarkasteleminen sirkkaäyriäisen tavoin tarkoittaa parempien ja nopeampien päätösten tekemistä. Sen jälkeen et enää koskaan katso maailmaa samalla tavalla.