XProtect 2017 כנס מיילסטון והשקת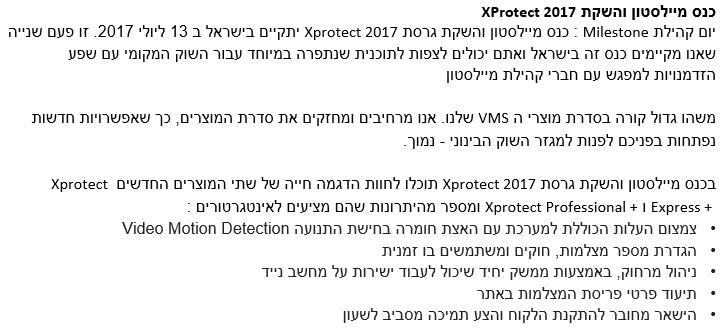 ---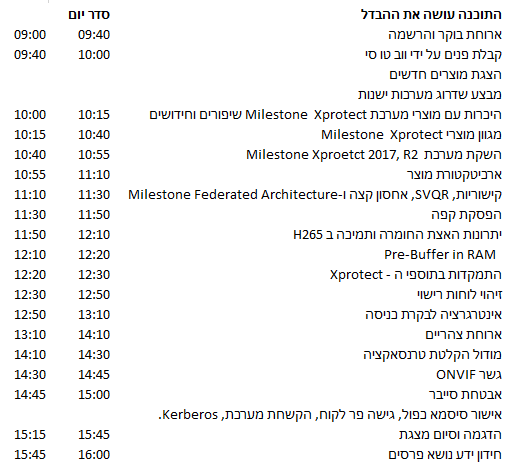 כניסה חופשית וכולל ארוחת בוקר ארוחת צהריים כיבוד קפה ותה*
---
Milestone Conference & XProtect 2017 Release


Milestone Community Days: Milestone Conference & XProtect 2017 Release takes place in Israel on July 13, 2017. This is the first year that we are hosting a conference in Israel, and you can look forward to a program tailored specifically to the local market, with plenty of opportunities for networking with Milestone Community members.

Something big is happening in our VMS product portfolio. We're expanding and strengthening our product portfolio, so you have more options to address the low-to-mid-market segment.

At Milestone Conference & XProtect 2017 Release, you will experience live demonstration of the two new products, XProtect Express+ and XProtect Professional+ and the number of advantages they offer integrators:
Reduce total system cost with hardware accelerated Video Motion Detection

Configure several cameras, roles and users simultaneously

Remote management, through a single interface that can run directly on a laptop

Documentation of deployment

Stay on top of customer installations and offer round-the-clock support
Agenda:

09:00

09:40

Breakfast and Registration

09:00

10:00

Welcome by Web2See and more

- New coming products
- Care plus promotion

10:00

10:15

Introduction to Milestone

10:15

10:40

Product range

10:40

10:55

Milestone Xproetct 2017, R2 Release

10:55

11:10

Product Architecture

11:10

11:30

Interconnect, SVQR, Edge Storage & Milestone Federated Architecture

11:30

11:50

Coffee brake

11:50

12:10

The Power Hardware Acceleration and H265 support

12:10

12:20

Pre-Buffer in RAM

12:20

12:30

Xprotect Add-on's in focus

12:30

12:50

License Plate Recognition

12:50

13:10

Access Control Integration

13:10

14:10

Lunch

14:10

14:30

Xprotect Transact

14:30

14:45

ONVIF Bridge


14:45


15:00

Cyber Security

- Two Factor Authentification, Per client Access, Kerberos, Hardening Guide

15:15

15:45

Complete demo and final wrap up + promotion

15:45

16:00

Quiz
Register now!
Date: Thursday, 13 July 2017
Location: Tel Aviv
Charlton Tel Aviv hotel
Eliezer Peri St 10
Tel Aviv-Yafo
63573 Israel
*event is free to attend and includes lunch and coffee/tea
---