2018 R2 is just around the corner
jueves, 12 abril 2018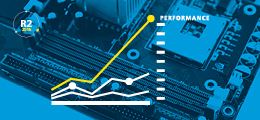 Autor: Toyah Hunting
Product News
Hardware acceleration in the Recording Server using NVIDIA: Maximize the potential of your system and save money on costly hardware
With customers' increasing need for connecting more cameras to the Recording Server, their machines lack the necessary processing power resulting in an exhausted CPU and in costly hardware purchases. XProtect, the world's best performing VMS, is now also the only one with support for multiple NVIDIA GPUs in the Recording Server. XProtect 2018 R2 makes it possible to harness the power of multiple NVIDIA graphics cards added to the Recording Server and to connect more cameras per server than ever before. Maximize the true potential of your system and enjoy a higher performing system with a lower cost.
Building support in Smart Map: Easily navigate between cameras located on different floors
In installations set in buildings with more than one floor, cameras located in the same position on different floors might look clustered in the Smart Client. This can make navigating between cameras difficult and confusing, especially when following incidents in real-time. The second release of XProtect in 2018 introduces support for multi-layer buildings in the Smart Map, providing a smooth user experience navigating between cameras on different floors in the same building. Based on already supported online map services such as Google maps and Bing maps, users can now define building layouts on the map, upload supported floor plans (CAD/JPEG/PNG), populate each floor with cameras according to their location and easily navigate between the floors and the cameras for complete situational awareness.
The localized Customer Dashboard provides an even better user experience
In the world of security every second counts. Monitoring a large camera installation can be a tedious task. The process of identifying the problem, finding the solution and getting a capable professional in time can be frustrating and time-consuming. Milestone's Customer Dashboard is an online system monitoring service that is designed to guarantee that your system always works. And now, we are excited to bring you the same great experience in your own local language, so you can make sure service is quicker than ever and is delivered to the highest standard.
Stay tuned for the General Availability of 2018 R2 on June 7.