Husky M30 approaching end-of-life: what to do?
martes, 20 febrero 2018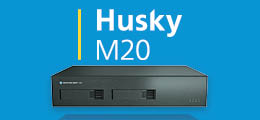 Autor: Toyah Hunting
Product News
Last day to order Husky M30
The last day to order a Husky M30, for new or extension sale, is July 31, 2018. After July 31, it will not be possible to buy a Husky M30.
Choose the plug-and-play Husky M20
The replacement product for the Husky M30 is our popular Husky M20, a plug-and-play NVR that supports up to 32 cameras and has an optional PoE switch. With a predictable installation process every time and the latest technology, you get a reliable solution for today's security demands.
For SKU replacement, please see the Husky M30 end-of-life document.
Husky M30: Dates to remember
July 31, 2018: Last day to order
July 31, 2021: End of life