Attend ASIS 2016 for Free
domingo, 4 septiembre 2016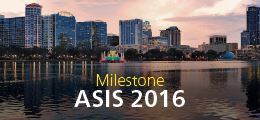 Autor: Toyah Hunting
Event News
Join 20,000 security professionals from around the globe for intelligence, connections and innovative technology designed to help you mitigate risk and meet today's evolving challenges.
What you get
In booth #3419, Milestone Systems™ will demonstrate the latest XProtect® 2016 video management software release as well as showcase the latest and greatest partner integrations. You will also have a chance to take advantage of hands on experience with the new Milestone Husky™ M500 Advanced network video recorder (NVR) - a purpose-built high-density surveillance recording hardware platform that is the highest-performing NVR in the industry. Make sure to stop by, as the Milestone Husky Series of NVRs may be growing! You will want to see the newest pack member up close.
Open Platform Hour
Join Milestone on Monday, September 12, and Tuesday, September 13, from 3:30 p.m.– 4:30 p.m. for complimentary drinks.
Check out the full program here or register directly (for free) here
September 12-14
Orange County Convention Center
9899 International Dr
Orlando, Florida 32819, USA
Milestone Solution Partners participating in ASIS 2016
Bintelan® Analytics Platform by Ganetec provides the best Security and Marketing Solutions in areas like finance, retails, industry, transportation and city surveillance.
C2P's integration framework uses the Milestone Smart Client as the unified head-end solution for monitoring events from a wide variety of Smart IP appliance integrations.
D3 Security is a leading provider of end-to-end enterprise incident management, physical security operations and situational awareness solutions that deliver realities, enterprise-wide visibility for security, safety, human resources, legal, ethics and compliance departments at global companies.
Combining SICK, Inc.'s globally recognized line of laser scanners with The HawkEye Effect's award winning mapping technology, LaserGuardian is the only laser detection solution that takes full advantage of the power of XProtect.
Iluminar Inc. is a specialist manufacturer and supplier of IR and white light illuminators and license plate recognition products.
IntelliVision is the market leader in Intelligent Video Analytics, video content analysis and automated surveillance solutions.
Oncam is a global technology innovator offering a cloud-based business intelligence platform with industry-leading 360-degree video capture and analytics at its core.
PlateSmart is the creator of the world's first software-only video analytics solutions based on Automatic License Plate Recognition (ALPR).
Siklu is the leader in short and medium range high capacity, uncongested and interference-free point-to-point wireless connectivity across the network, linking cameras to the VMS with fiber-like wireless connectivity.
NMS is a certified integrator and distributor for SpotterRF, a series of Doppler radar devices that enable motion sensing way beyond traditional detection methods up to 260 acres/panel.
VCA Technology provides video analytics for Cameras, Bridge Appliances, Servers, and Cloud applications.
Western Digital is an industry-leading provider of storage technologies and solutions that enable people to create, leverage, experience and preserve data.