XProtect® Essential+ supports MIP SDK
jueves, 8 junio 2017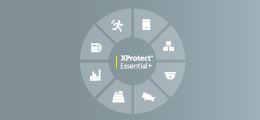 Autor: Toyah Hunting
Product News
MIP SDK now works on our free VMS product
On June 8, we're releasing a brand-new free video management software, XProtect Essential+. Why is this news interesting for our Developer community? XProtect Essential+ supports the Milestone Integration Platform (MIP), meaning you can integrate and embed third-party applications and business systems directly into the software.
What this means for you
XProtect Essential+ is built on the same high-performing technology as our advanced VMS products, XProtect Expert and Corporate. This means you can test any applications you are developing for those products on our free VMS. XProtect Essential+ includes support for:
Metadata – integrate any kind of data into the system and link it with video
Hardware accelerated video motion detection – free up CPU processing power that can be used for video analytics and other applications
Rule engine – automate specific actions based on events triggered in the system
H.265 video compression – free up bandwidth and storage space for other applications
Getting started is easy
Download XProtect Essential+ and get started. No registration necessary. The free license supports up to 8 devices, an unlimited number of users and unlimited video retention time.