Help XProtect® Enterprise Customers Upgrade
jueves, 23 junio 2016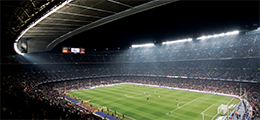 Autor: Kimberly Sallingboe
Product News
As we communicated earlier this month, key changes to our mid-market offering have resulted in our announcing an end of development for XProtect Enterprise. In connection with this announcement, we launched a limited time migration campaign offer to help you transition XProtect Enterprise customers to either XProtect® Expert or the all-new Milestone Husky™ M500 Advanced. The details of the campaign offer are listed in the image below.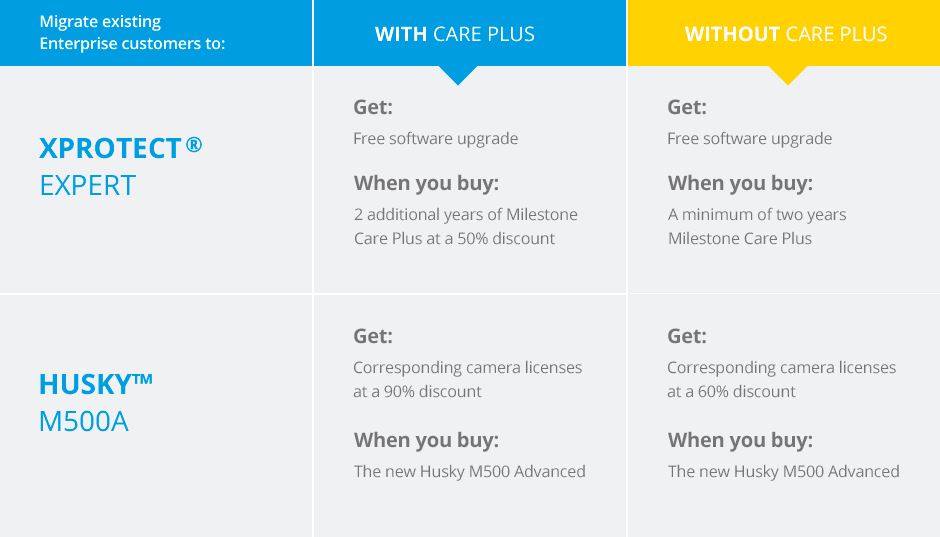 What if my customers are happy with XProtect Enterprise?
We're glad to hear they're pleased with their Milestone product, and you can reassure them that they can continue to use their product. We will continue to support XProtect Enterprise installations until June 1, 2020, and we have introduced the option of extending support beyond that date by purchasing Milestone Care™ Premium. We will also continue to issue device packs with support for new camera models. So your XProtect Enterprise customers who are happy with their system don't need to do anything right now.
Why should I take advantage of the campaign?
All of that being said, we have introduced two very attractive campaign offers to help you upgrade XProtect Enterprise customers. These offers give you a unique opportunity to re-engage with these customers and offer them additional services in connection with the migration to a more advanced XProtect product.
Why should customers migrate?
These campaign offers give XProtect Enterprise customers a superior product at the same price point as XProtect Enterprise. XProtect Expert offers failover recording servers, system monitoring tools, a versatile rule engine and a host of other attractive features that can help customers more effectively manage their installation and ensure reliable video recording. They also get a future-proof, continuously-updated surveillance solution, and immediate access to all of the new system enhancements through Milestone Care Plus.
Which offer should I choose?
The offer you choose for your customers basically depends on the state of their existing hardware. The Husky M500 Advanced runs XProtect Expert, so they will have access to the same software functionality in both campaign options. However, if the customer has older hardware that is reaching end-of-life, offering the Husky M500 Advanced might be a better option for the customer, as they will get both our XProtect Expert software and a high-density surveillance recording hardware platform.
Take advantage of this unique offer
To take advantage of the campaign offers, contact your preferred distributor and ask for the Enterprise Migration Campaign Offer. The campaign continues until December 31, 2016.
Download the Migration FAQ
Download the Enterprise Migration Guide