Soko Aoki from Tokyo wins Milestone's Community Kickstarter Contest 2018
mandag, 12 marts 2018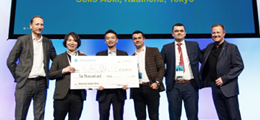 Forfatter: Toyah Hunting
Partner News
The winner of Milestone's Community Kickstarter Contest 2018 is Soko Aoki, CEO of Kadinche Corporation from Tokyo, Japan.
Kadinche develops software and web services handling 360-degree video. Soko's winning idea involved body-worn sensors and is based on integrating Milestone XProtect with 360 degree enabled cameras and a head mounted display (HMD) in order to see omni-directions by just moving your head using RTSP and MIP drivers.
Bringing high quality 360-degree video streams directly into XProtect
Soko's idea uses cutting edge technology to bring high quality 360-degree video streams directly into XProtect, allowing security officers and professionals to utilize innovative equipment such as HMD and augmenting their capabilities when it comes to video and security.
Soko was up against tough competition but came in first in several categories, like innovation, commercial use and level of integration with our MIP SDK.
"Soko's idea is a clear demonstration of why we have this contest. It brings in innovative ideas that use the latest technology in video and wearable cameras and expand XProtect beyond the uses we currently know. The use of Head Mounted Display and 360 degree and body warn cameras support the development direction of XProtect to automate more and more processes and eventually augment the human capabilities and skills to provide the most advanced security experience and the highest video quality possible." said Bjørn Skou Eilertsen, Chief Technological Officer at Milestone Systems.
What's next?
The overall aim of this innovation contest is to develop unique solutions in video management, security surveillance or beyond security to other interesting applications that can plug in to the Milestones XProtect VMS portfolio. Soko's ide will now be further developed, with solution design review and feedback, development support of the prototype and Milestone Solution Certification of the selected solution.