Milestone and NEC Join Forces
søndag, 4 september 2016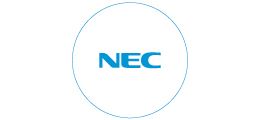 Forfatter: Toyah Hunting
Solution Certification
115 years of expertise, 60.000 patents
NEC is a Japanese multinational provider of IT services and products, headquartered in Tokyo, Japan. NEC brings more than 115 years of expertise in technological innovation and 60.000 patents to empower people, businesses and society. Specialties include network systems and services, security and space solution.
Scale storage with Milestone and NEC
NEC and Milestone recently completed a performance test using XProtect with NEC's server and storage infrastructure, making it possible to deliver the necessary throughput to keep up with even the most demanding video requirements: NEC provides the Milestone-certified server and storage infrastructure to enable XProtect® software to scale up to 1,132TB per storage node.
Start small, scale later
Running XProtect on the NEC Express 5800 Servers and the NEC M310 SAN Disk Array makes it possible to start small and scale later by adding incremental storage space to the M310 storage system. Adding more storage when needed is seamless and non-disruptive.
The NEC-XProtect solution can sustain 50 MBps bandwidth and support 150 cameras per recording server. When Video Motion Detection is implemented, up to 300 cameras per recording server can be supported. When Scale Logic's HyperFS is used in conjunction with the M310 storage, the NEC-XProtect solution can provide large capacity solutions for both Live DB and Archive DB, sustaining an infrastructure of thousands of live cameras.
Find more details on the NEC Video Surveillance Solution with M-Series SAN storage, servers, and Scale Logic HyperFS file system by NEC Corporation