Open Platform Enables Future Proof Technology
torsdag, 1 oktober 2020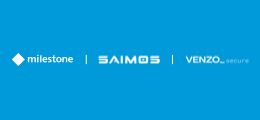 Seamless Integration
Both being Milestone Gold technology partners, VENZO Secure and SAIMOS bundled up their collective strengths to build the complete solution. The Behavioral Analytics Solution provides a seamless integration with Milestone, offering a deep integration with XProtect, which enables users to do all configurations within the Milestone environment without having to switch between applications. In other words, an optimized hardware solution with SAIMOS and Milestone pre-loaded on VENZO Secure's hardware solution.
"The synergy between VENZO and SAIMOS is that they also work great with Milestone in terms of how tight their integration is. Saimos' work with Milestone complements our work with Milestone" – Peter Greener, Sales Director UK & Ireland
The solution is sized and ready to be deployed. All components are thoroughly tested before they reach the customer. This saves time for the system integrator!
Future ready and on top of the nudge
The partnership's solutions are future proof and future ready and can face different types of challenges - before, during and after Covid-19. An example is the Occupancy/People Counting solution which can be used to manage crowds of people while also being applicable for business intelligence purposes and targeted marketing efforts. Further, the No Mask Detection can not only be used to ensure compliance in terms of face mask usage, but also for gender and/or age analytics.
Symbiotic collaboration
Milestone's open platform community facilitates the collaboration between the two technology partners which strengthens the multi-vendor open platform approach.
The high service level and full tech support provided on analytics, VMS and hardware by community contributors stepping up and taking responsibility for the full solution supports the open platform idea. The system integrator does not have to worry about who is responsible for providing support as the solution is provided by both technology partners with a tight connection to each other and to Milestone.
Read more about VENZO Secure and SAIMOS' Behavioral Analytics Solutions
SAIMOS: Karim Elhanafi k.elhanafi@saimos.eu
VENZO Secure: Peter Greener pgr@venzosecure.com