Listen up!
torsdag, 10 januar 2019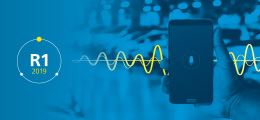 Forfatter: Toyah Hunting
Product News
What have we got for you in our first of three 2019 Product Updates?
Communicate with people, direct crowds and deter intruders by speaking directly from your phone with two-way audio
XProtect's audio capabilities are expanding. Communicate with people asking to enter the premises via Access Control, direct crowds safely and deter unwanted intruders to prevent incidents before they happen. Two-way audio, also known as push-to-talk, expands the capabilities of your Mobile Client and allows you to speak through the speaker connected to the camera directly from your phone (and the Web Client) with the push of a button. No matter where you are, in the control room or patrolling the premises, XProtect makes sure you never miss a beat.
The 2019 R1 Mobile Client also includes a one-way audio function. It lets you listen to audio captured by the microphone connected to the camera directly from your mobile device, for increased situational awareness on-the-go.
Best performance with end-to-end security: Recording Server communication encrypted using certificates
Encryption of all communication to and from the Recording Server using certificates (SSL/TLS) increases the security of data going from the Recording Server to the clients and to other connected servers such as the Event and Mobile servers. As part of our 'secure by design' development methodology, this type of encryption is designed to boost our system's resistance against advanced cybersecurity threats. It guarantees the authenticity of the video and ensures the highest level of security on the network.